Chestnut Lodge is home to The Cemetery and Crematorium for Domestic Pets 
and Sylvester's Cattery.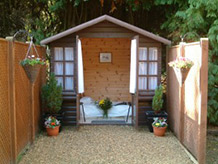 Pets are our life and we take our responsibilities to you, the pet owner, very seriously. We want you to receive such exceptional care for both your pets and yourselves that you feel you could not have been in better hands and will want to make sure your friends and family all use our services when they need us.
Take a little time to look at what we can do for you. 
  The Pet Crematorium
 Trust us to handle the cremation for your pet and you will receive a level of service that cannot be exceeded. That is because we have built our service for you. In a sector that is dominated by veterinary practices selling third party services that are often geared more to the surgery's needs than your own we will ensure your pet is handled with care and respect at all times and the cremation carried out with exact precision ensuring you receive a genuine cremation service that you can see at any stage. We do not limit you to an individual cremation as our communal service is carried out with the same level of care. We always work as if you are standing next to us and, indeed, you are welcome to inspect us and see any part of the service. Always contact us if you want the finest cremation service for your pet. We have arrangements with some veterinary surgeries who want the best for their clients and we can guide you to them if you wish. However, we are always here for you and you are always welcome to bring your pet to us or ask us to collect.
Click here to see extensive details of the cremation services we offer for you and your pet.
Register with us to set up your arrangements so you can reduce the stress when the time comes
The Pet Cemetery
Pet owners like yourself have been coming to us since 1969 for the formal burial of their pets. Now, as well as full burials with coffins and plots marked by headstones or plaques we have plots for the burial of individual ashes, areas for the burial of communal ashes and a green burial bed which provides a solution for those of you who do not like the idea of cremation but do not necessarily want the formality of a cemetery plot. Priced at an equivalent level to cremation green burials are marked by the planting of a shrub.
Click here to see how we can help you arrange a burial for your pet or your pet's ashes
Sylvester's Cattery
Boarding your feline friends is always a difficult part of the holiday but we will make life as easy as possible for you and ensure your cats feel safe, secure and happy in the most modern, clean, spacious and atmospheric cattery you could possibly want for them.
Click here to browse through our information pages and come and see us for yourselves
If you are interested in how we developed then why not start by looking at the History of Chestnut Lodge page

If you have any questions or need us please just call us on 01342 712976. Someone is always here to help you but we  can't necessarily manage the phones all the time. If you get through to the answerphone please leave a message. We will get back to you as soon as possible.
.