Paw Prints
Paw Prints & Clay Impressions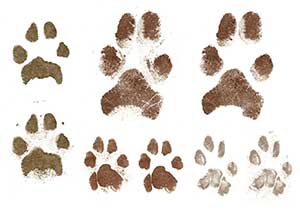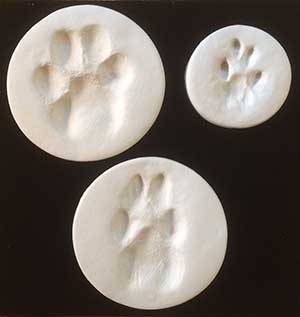 A paw print may be taken using an inkless system onto a reactive paper. These may be used to produce paw print jewellery.
This is then be scanned to give you a permanent digital memento.
We will also enhance your digital print by cleaning away all the little marks from fur that appear.
Or we can gently press your pets paw into air dried modelling clay to create a impression in the clay for you to keep.
If you are attending the cremation please be aware that it does take a little time to take the print as we have to trim any fur away from the paw to get the best result.
Both Paper and Clay Paw Prints are £25
Engraved Plates
We use a Times Roman font on a brass coloured high quality vinyl.
The plate is engraved through to a black core.
The overall effect is a softer, warmer looking plate with clear & easy to read lettering.
The joy of using a vinyl, is it stays looking beautiful for years & will not tarnish like a metal or brass plate can.
Options 4, 6, 7,  8 & 15  *include an engraved plate with the name only.
Additional Engraving is 25p per character.
Plates may be purchased separately for £5 + lettering
Engraved Plaques for the garden are 5" by 3" and can take up to four or five lines with four or five words per line.
Perfect for home use. It is ideal if you can email the details to us so we may see the wording and layout you prefer.
Postage is £5 per item.
Engraved exterior vinyl on a black stake
£30  –  Gold with black text – pictured
£30  – Silver with black text