Crystal Glass Memorials from Your Pet's Ashes
Ashes Into Glass
A Partner Service to Commemorate Your Pets  –  Jewellery and Paperweights in Crystal Glass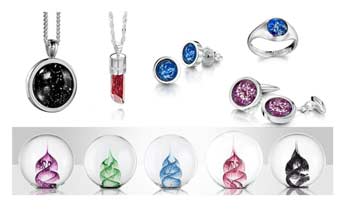 A small portion of your pet's ashes can be turned into exquisite glass and crystal memorials.It is possible to have rings, earrings, cufflinks, pendants and paperweights made with samples of your pet's ashes.
We will prepare a sample of the ashes for you and you can arrange for your chosen memorial to be made directly by Ashes Into Glass (in which case let them know you have come from us) or we will make the arrangements for you.You can also make arrangements to take the ashes to them on a Saturday and see your memorial being made. The service is carried out by James Watts and Bill Rhodes at Barleylands Glassworks in Billericay, Essex.To see details call us for a brochure or view their website at https://www.ashesintoglass.co.uk
If we arrange the memorial for you we will pass on a 10% discount from the normal retail price
Eternity Crystal
A Partner Service to Commemorate Your Pets  –  Vases, Bowls, Jewellery and Paperweights in Crystal Glass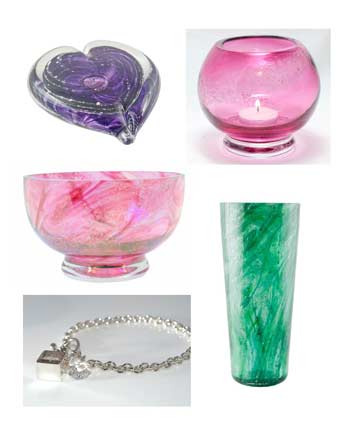 An alternative service where small amounts of your pet's ashes can be incorporated into crystal glass to produce elegant vases, bowls and candle holders that make attractive ornaments.There are also other ranges of jewellery and paperweights to choose from.
We can make the arrangements and prepare the ashes for you.
Take a look at their website https://www.eternitycrystal.comfor details of their products.
Order through us and receive a 7.5% discount on their published prices (excepting the gold jewellery)