Chestnut Lodge Pet Crematorium
Helping You is Our Priority
What makes Chestnut Lodge Pet Crematorium one of the best and why should you choose us to carry out the cremation of your pet?
  The Pet Crematorium started in a very small way in 1974 and since we took over in 1986 has grown to be one of the most respected in the country. It is also known under the original name of The Cemetery and Crematorium for Domestic Pets. Our focus has always been to provide you with the pet cremation service you want for your pet carried out the way you expect. To do this we focus on excellence in handling, transportation, working practices and presentation. Everything is carried out as if you are beside us every step of the way.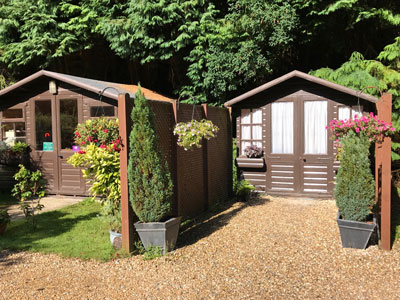 A Complete Range of Services for Your Pet
Whichever service you choose will be carried out with the same high level of care and respect.
Chestnut Lodge Pet Crematorium is one of the few pet crematoriums in the UK
to carry out genuine individual and communal cremation services, all with the same care and respect.
This applies whether you bring your pet to us or we collect from your home or vet.
You may wish to look at the options and prices for these services to see which suit your wishes.
The cremation carried out the way you expect
The history of pet cremation is littered with misunderstanding, misrepresentation and outright fraud. When we started it was obvious to us that very few pets were treated the way you would expect a cremation to be carried out. Most of the so-called individual pet cremations being sold were carried out on trays with multiple animals in the unit at a time. Since cremation is a volatile process this is not only an unreliable method to use it is also not the way most of you expect your pet to be handled.
If you want an individual cremation you most likely want your pet to be carefully handled and cremated on its own with all the ashes carefully collected and returned to you. That is the way we have always worked and always will.
The main factor in the process is care. Care about the way we handle your pet; Care about the way we carry out the cremation; Care about the way we collect all the ashes after the cremation; Care about the way we present the ashes and Care about you.
At Chestnut Lodge Pet Crematorium we always work as if you are with us every step of the way.
The highest levels of accreditation
As Founder Members of The Association of Private Pet Cemeteries and Crematoria, you can be sure that we are bound by strict procedural requirements over any services described as cremations.
To give you the maximum confidence we have now been inspected and approved by an independent company to show that we describe everything that we do accurately and that our technical procedures match those descriptions and meet the high standards of the APPCC Code of Practice. The inspection not only verifies the accuracy of our descriptions and systems but also the quality of the services. Very few pet crematoriums are able to pass such a detailed inspection process.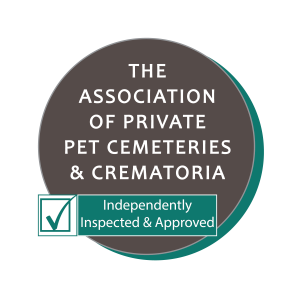 Click here to see the APPCC Code of Practice
This document provides a system of allowing you to know exactly how your pet will be handled and cremated. 
The APPCC Code is the definition of what it is to be a pet crematorium. We support the Association completely and always live up to the standards. Click here to go to the APPCC website.
Take time to decide on the service you want for your pet
Losing your pet can be a far more emotional experience that many of us realise and often we can simply take the easy option of letting the vet arrange everything. Please be aware that you may not be in a fit state to make a decision about what will happen to your pet. It is therefore important that you are given all the details of the services available to you and be allowed time to come to a rational decision.
We supply leaflets to all veterinary surgeries who work with us giving complete descriptions of the services we offer. We never want vets that work with us to force you to use us – you are the one to make that decision and we want you to understand why you can completely trust us with the final arrangements for your pet.
Always Ensure You Purchase the Service You Want for Your Pet
Whatever you may be told, unless your veterinary practice uses our services or one that is similar then there will be a vast difference between the service they offer and what we will do for you. The scale of some pet crematoriums is huge and the number of animals collected and handled, coupled with the collection of veterinary waste, can be poles away from the image you have for your pet's cremation. Always ensure you receive a description of the storage, handling, method of cremation and system for ensuring all the ashes is recovered and preserved. Does this fit with the way you want your pet to be handled?
There are requirements for all types of after death services, from simple disposal to elaborate pet funerals, but they all have to be sold with the correct details and not passed off as something they are not. Sadly this is not happening in the majority of cases.
We always do our best to ensure we understand your requirements. If there is any misunderstanding or you simply have a change of mind over a presentation then we will always try to make any changes that you want.
Register Your Details With Us
If you feel that you would like Chestnut Lodge Pet Crematorium to help you when your pet finally passes away then you may like to register your details with us. That way we will have everything in hand and we will send you some information together with a card that you may hand to your vet to tell them we will be handling the arrangements. Hopefully, it will make things easier for you to deal with when the time comes. You may register at any time, even if your pet is still young. Look at it as a form of insurance that if anything did happen you would know who to turn to.  
Schedule or Attend Your Cremation Service
Most of you who bring your pet to us spend some time in our reception and then come back the next day or at another time to collect the ashes. However, we can carry out scheduled cremations at a specific time with the ashes available the same day and you may witness the start of the cremation if you wish. 
If you do not wish to attend but would like further reassurance then we can provide photos of the cremation service.