Burial Options and Prices
The Pet Cemetery at Chestnut Lodge
Chestnut Lodge Pet Cemetery is set in the quiet Sussex countryside between East Grinstead and Crawley. Our positioning in the heart of the South East is just 6 miles from Gatwick Airport meaning you can easily reach us by road or rail from London as well as Sussex, Surrey, and Kent. We also have people coming from much further away, to have their pets burial set in the beautiful countryside.
The Pet Cemetery was established in 1969 and is set out in an informal manner among trees and shrubs. You will find a complete service for the burial of your pet or your pet's ashes. As everyone has their own ideas about what they expect a pet cemetery to look like we advise you to come and see us before deciding on a burial for your pet. You will be able to get a good impression from the video on this page. Burial is a long-term commitment so we want you to be absolutely sure you are happy with the setting.
If you have an individual cremation for your pet then the ashes may either be buried in a plot or scattered over the cemetery grounds. If you choose a communal cremation then the ashes will be placed into a large grave situated behind a fenced area. The depository is filled over a number of years with each layer being covered as it is filled.  There is a memorial area next to the depository where you may have a plaque or leave flowers.
Green Burials in The Pet Cemetery
For those of you  who may not like the thought of cremation but do not want a formal cemetery plot, we have introduced the option of green burial. Your pet will normally be wrapped in a covering rather than a coffin and placed into a grave within the memorial shrub bed next to the communal cremation ashes depository. The grave will be marked by a shrub and left to grow naturally. Please note that we are unable to allow the graves to be bordered in any way and they are not intended to be for a formal planting of flowers. If you wish to have a grave like this then you will need one in the formal area. The plot will have a grave marker to identify it but you may have a small plaque placed by the shrub if you wish.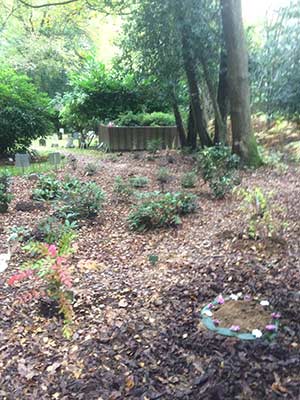 Unattended Green Burial Fees – 2018

Tiny (-1kg)
£205
Size 1 (1-7kg)
£205
Size 2 (7-20kg)
£220
Size 3 (20-33kg)
£235
Size 4 (33-50kg)
£250
Size 5 (50+kg)
£265
Attended Green Burial Fees – 2018

Tiny (-1kg)
£255
Size 1 (1-7kg)
£255
Size 2 (7-20kg)
£270
Size 3 (20-33kg)
£285
Size 4 (33-50kg)
£300
Size 5 (50+kg)
£315
Formal Burials in The Pet Cemetery
Formal pet burials are in marked plots and several pets may share a family plot. The pet burial fees include the coffin and for you to attend your pet's burial. It is normally an informal affair but some clients like to add their own personal touches. We are always happy to discuss how you want to proceed.
There is a £50 discount if you do not wish to attend the burial.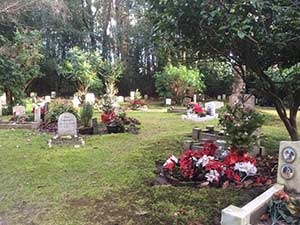 For those who do not wish or are unable to attend the burial, photographs can be provided on request for a £25.
Annual Cemetery Maintenance Fee
There is an annual Cemetery Maintenance Fee payable for each plot or memorial in the cemetery.  This entitles you to full visiting rights for as long as you wish to keep the plot. The fee goes towards the maintenance of the cemetery grounds and normally rises approximately in line with inflation. The upkeep of the memorial or plot if it demarcated is your responsibility. The intention is that the Cemetery will remain in existence indefinitely but we can give no legal guarantee on that. It has been here since 1969 and survived a number a threatening legislation changes so we are as permanent as any pet cemetery could be.
The fees run from January to December each year. For new burials the proportion of the Maintenance Fee for the remainder of the year will be added to the burial fee.
Annual Cemetery Maintenance Fees – 2018

Small Memorial – Communal Area
£28
Large Memorial – Communal Area
£35
Ashes Burial Plot – Plaque only
£40
Ashes Burial Plot – Full Memorial
£42
Formal Burial Plot – Headstone/Plaque Only
£48
Formal Burial Plot – Full Memorial
£52
Green Burial Plot
£35
Ashes Green Burial Plot
£28
All maintenance fee options include full visiting rights. Everyone is entitled to an initial visit to see the final resting place of their pet. After that visiting rights and the use of the cemetery are subject to a separate agreement for the Conditions of Use. These may be downloaded here.
Download the Cemetery Conditions of Use
Should you wish to give up your plot it may be reused. We never remove any remains from the cemetery but they may be reburied at a greater depth or left where they are and the new plot moved to one side. This is to ensure the survival of the Cemetery as a business that can provide help for pet owners in the years to come.
To ease the burden when the time comes you may register your details with us.
There is no commitment and you can change your mind at any time.
We also take reservations for plots which are charged at the normal annual Cemetery Maintenance Fee.