Your London Pet Crematorium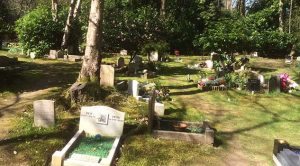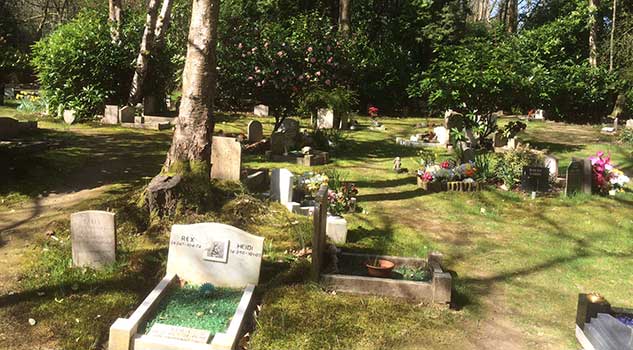 Chestnut Lodge – your London Pet Crematorium offers unsurpassed, guaranteed services for the cremation and burial of your pet. See how we can help you with the loss of your companion.
Nobody likes to think about losing their pet but it is important to know that, if you want a cremation or burial service, everything is carried out properly and with due care and respect for your companion. At Chestnut Lodge we guarantee that everything will be carried out to the highest standards, backed by our membership of The Association of Private Pet Cemeteries and Crematoria and The Trading Standards "Buy With Confidence" scheme.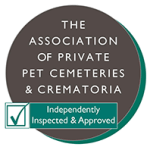 Arrangements can be made quickly and Easily
Just telephone or email to make arrangements. Our location just 6 miles from London's Gatwick Airport makes us the ideal London Pet Crematorium, particularly for pet owners in South London.
You may bring your pet along to us, normally without any delay, or we can collect from your home or veterinary surgery. It is always best to contact us rather than making arrangements through your vet. This ensures we receive the correct instructions. We work with a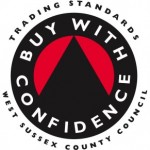 number of professional surgeries in the South London area and we can advise you if your vet is one of them.
If you register with us in advance we will have all your details to hand and it will makes things far simpler for you. You do not want to be left making a distress decision at the veterinary practice as you are likely to accept the first offer from your surgery. We regret that many commercial veterinary services may fall short of your expectations and it will be too late to change your mind once everything has been carried out. Let us help you and we will not let you down.
Care and Respect for Your Pet all the Way Through
We always work as if you are standing next to us. This applies to both the collection and the cremation or burial. Everything carried out with care.
Cremation the Way You Expect
An individual cremation will be carried out the way you would expect for a human cremation. Your pet is carefully placed in the chamber on its own and at the end of the cremation all the remains are carefully swept from the hearth and reduced to a fine ash. You may have these returned to you or scattered or buried in the Cemetery..
You may have everything carried out at a specific time, if you wish, so you can take the ashes home the same day and you can see the actual cremation.
See our Individual Cremation details
If you select a communal cremation then your pet will be cremated alongside others and the remains transferred to a depository in our Pet Cemetery. You are welcome to visit and there is a memorial bed alongside where you can place flowers or have a memorial.
See our communal cremation details.
A Cemetery Plot for Your Pet's Ashes
If you would like to have the ashes buried in a plot we have space available in the Cemetery. These can contain any number of ashes and can be used for all family pets if you wish.
Open Every day
Our opening hours are 8am to 6pm Monday to Friday and 8am to 1pm on Saturday, Sunday and Bank Holidays (apart from Xmas, Boxing and New Year's Days when we are closed). If you need us outside of those time please call and leave a message and we will contact you as soon as we can.
What Can You Do Now?
If you need us right away please call 01342 712976 for our help. Our website gives extensive information about us and there is a link to our Pet Tribute website where you can have a tribute to your pet placed onto the internet.
We advise you to register with us. Don't underestimate the shock you can feel when you lose a pet. You do not want to rush into arranging a cremation or burial with someone you know nothing about. The standards in this sector vary enormously and there is only one chance to get it right.
If you need us or have any questions simply call 01342 712976 or use the contact form on this site. We are here to help you.